The Mamle Art Centre (MAC) has been officially registered in 2009 in Norway and started its activity. This centre has been established on the base of Mamle's thought and ambition to have an independent art centre capable of encouraging and helping Kurdish art process and artists. Unfortunately, this ambition didn't take place while he was among us.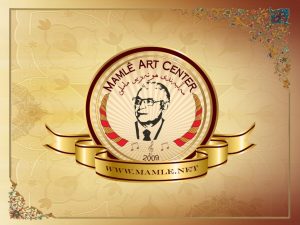 Despite of the difficulties that the centre is facing, this centre is a non-partisan organisation that is financially and politically independent, we have strived and are striving to overcome these difficulties in order to stay independent because this was Mamle's ambition in the past.
Probably, there are some impuissances in the centre's activities due to financial difficulties. However, the centre is not intending to lose its independence to improve these impuissances.
One of the main activities of this centre is to collect the films, photographs, and songs of Master Muhammad Mamle. Mamle is a treasure of all Kurdistan and his works should be accessible by the Kurdish nation.
The Mamle art centre is, annually according to its ability, awarding Mamle award to an artist/s to recognise the awardees art works. This is of course done after an appropriate evaluation and assessment for the candidate. The centres view is that this award has no financial importance, but only intellectual importance.
It should be reminded that the centre's management members favouritism due to localities or friendship does not affect the process of the awardees candidature. Therefore, all of the Kurdish art fans can have a tremendous role in nominating the awardees. As Mamle was belonged to his nation, this award is also belonging to all Kurdish people.
In executing the tasks of this centre, we owe (intellectually) a vast number of eager humans and patriotic individuals who have faithfully supported us and we will never be able to reward their efforts they have offered to the centre. We cannot find a word to thank them with and, therefore, we refuge to the sea of words to bow and thank them instead of us.
In 2010, the centre decided to offer the first Male art award to Master Qadir Abdullazada, known as "Qala Marra". Unfortunately, the monster of death became an obstacle and did not let the Master to receive the award by his magical fingers. Therefore, after a short period of time, the award has, secretly, given to the Master Qala Marra's family with the attendance of lots of artists and art fans in a Kurdish atmosphere and environment.
In 2011, the Mamle award went to Master Anderias Israel Khamo known as Master Bakuri. The event was held in Erbil city with the attendance of a group of artists and the Kurdish art fans in a well-deserved ceremony, Master Bakuri's contributions to the Kurdish music and art was highly recognised.
The assessment committee of the MAC pronounced the 2012 Mamle award by majority to the Master of seven arts, Master Abbas Kamandi. His health condition was disturbed two days prior to the ceremony held in Erbil. Therefore, he couldn't participate in the ceremony. However, the MAC carried out its task and the ceremony went ahead in the absence of Master Kamandi and the award was given to the representative of Master Kamandi, Master Wrya Ahmed.
The awardee of the 2013 Mamle award was Master Aziz Shahrox, the well-known Kurdish tone. Traditionally, the MAC is organizing a well-deserved ceremony for the awardees to receive their awards. Unfortunately, due to special security circumstances, Master Shahroxi proposed a smaller ceremony held between the two (Sharoxi and Male) families to pass the Mamle award to him in order to recognise his contributions to the Kurdish music.
In 2014, The Mamle award went to Master Nasir Razzazi. A well-deserved ceremony was held in Slemani with the support of Kurdish Cultural Centre. The attendance of a vast number of artists gave the ceremony a special atmosphere.
In 2015, a well-known women artist from Northern Kurdistan, Ms Zozan was the winner of the Mamle award. The ceremony was held in Germany with the aid of Kurdish Institute in Germany at the hall of the Institute's library with the participation of a number of well-known keypersons from the whole four parts of Kurdistan in a well-deserved event, the award was received by the awardee.
In 2016, the winner of the Mamle award was Slemani Musical Band. Despite the obstacles on their way, this band has been contributing for more than half a century to the Kurdish music. In a ceremony held with the support of the Kurdish Cultural Centre in Slemani, the Mamle ward was passed to approximately 50 artists, current member of the band, and a number of the deceased members that their memories are still living in our hearts.
In 2017, The MAC, with the participation of the Kurdish Cultural Institute in Southern Kurdistan, has awarded the Mamle award to Master Mazhar Xalaqi in the Sweden capital city, Stockholm, in an artistic and cultural festival. The festival took 9 hours which composed of:
Book exhibition, photography, and audio and video products.
Artistic seminars titled (the role of the culture and music in Kurdish society)
Finally, the award was passed to Master Xalaqi